Transport Standard Context
Transmodel has been developed under the aegis of CEN (Comité Européen de Normalisation). The CEN Transmodel standard is a conceptual model which names and represents PT info concepts for a wide set of functional areas, and which can be used to compare and understand different models.
Transmodel project outputs have previously been used both to underpin a number of CEN concrete data standards, such as CEN SIRI and CEN NeTEx, and also to rationalise national standards to allow for harmonisation and interoperability.
CEN standardization body context
CEN, Europe's standardisation body, divides its work into committees covering different aspects of industry and technology, with a well-defined process and documentation formats.
The Transmodel standard (EN12895) is formally produced by Technical Committee 278 (TC278), Working Group 3 (WG3), Sub Group 4 (SG4). Other TC278 WG3 sub groups handle the related standards:
SIRI-Service interface for Real-time Information, CEN TS 15531 1-5 (SG7)
NeTEx: Network, Timetables and Fare Exchange, CEN TS 16614-1 to 3 (SG9), extended to cover the Alternative Modes (CEN TS 16614-5)
Three other subgroups have also links to SG4, using Transmodel as the Reference Data Model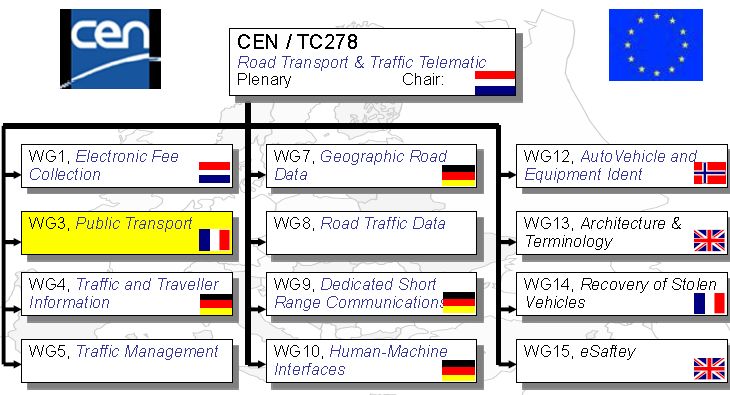 The following picture  illustrates the interactions between Transmodel (SG4) parts 1-8 and CEN TC278 WG3 subrgoups.
There is a strong link between SG4 (Public transport -Data Model) and ISO TC204 WG3 – SWG3.1 (subgroup for GDF – Geographic Data Files).
Transmodel's Parts