MobilitX
MobilitX is a real-time high performance reliable backbone dedicated to high-speed and massive transport information exchange. MobilitX is gathering all the information related to transport, reference information as well as real time information, producing added value services and information and delivering the information to the transport actors and the passengers.
MobilitX already implements the emerging European standards of the transport sector: Transmodel IFOPT, NeTEx, SIRI, and NEPTUNE (French Transmodel-based standard for public transport offer data exchange).
Architecture: Modular and scalable architecture tailored for the multimodal networks requirements.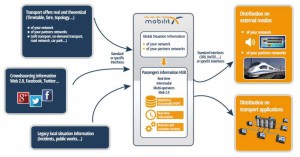 Easy integration with legacy information systems : Possibility to add/remove connected systems with no technical impact on the other systems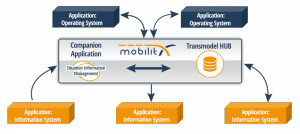 Components
 Transport information hub
Availability of Passenger Information business services (timetable at scheduled stop points, calculation of travel time and possible itineraries) in real time, during disturbances or nominal situations
Global Passenger Information, multimodal and multi-operator
Standard or specific interfaces compatible with personal and collective media accompanying the passengers throughout their travel
Native consideration of latest standards and interoperability norms (Transmodel, NeTEx, SIRI, …)
Consideration of public data such as "Open Data" and web 2.0 community data
Multimodal situation information management
Situation information management through multimodal, centralized and standardized approach
Automate the diffusion of passenger situation information
Passenger information dissemination instantaneously or through pre-defined scenarios
Supervision of information dissemination through different media and channels
Display of transport offer (indicators, synoptic, cartography)
Distribution management (library, scenarios)
Performances
Adaptability: targeted for transport network
15 000 scheduled stop points monitored in real time
2400 requests / second
Reliability:
Specific or standard interfaces (SIRI, NeTEx, …)
Scalable strategy is taken into account as early as design stage
Multiple scenarios deployment
Flexibility and scalability: high availability
Applications (addition of new machines)
Support services (24/7)