BIP Project
The Italian BIP project (Biglietto Integrato Piemonte) is one of the implementations  volving concepts from Transmodel. .The Porject has been co-funded by Piedmont Region (Italian Local Administration) and technical coordinated by 5T s.r.l.; it represents an innovative integrated ticketing system for Public Transport Operators (PTO), railways and for virtually all other transport systems.
Goals
Main goals of the project is to enable different PTO's, interoperability adopting a unique electronic contactless ticketing system, based on Calypso technology based Smartcards, Automatic Vehicle Monitoring system (AVM) enabling real-time and off-line monitoring of executed service and a video-surveillance system for passenger safety.
Functional Architecture
Integration has been realized with the creation of a central system able to exchange data among all stakeholders::
PTO's consortia (CCA);
Public Administrations
Service Operators.
A Regional Service Centre (called "CSR-BIP") has been created for the governance of the whole System, with the role of an independent judge able to solve issues between different operators.
The BIP Project Architecture has been designed as a "universe " of stakeholders interacting with each other in order to allow their users to access transport with a single Smartcard.
Data exchange among Service Providers, Public Administrations and CSR-BIP is made using a tailored version of NeTEx communication Exchange Protocol (called BIPEx).
Dimensions
The BIP Project involves over 100 Public Transport Operators (PTO), nearly 3.400 vehicles, more than 8.600 stopping points, nearly 400 train stations, from 1 to 4 million people with a total investment of 50 million euros.
EXBUS
Exbus® is the automatic vehicle monitoring system designed for an effective and reliable control of the public transport service. Exbus® enables real-time monitoring, traveller information on-board the vehicle / at the stations / at the stop points, voice and data communication with drivers, service certification according to local laws and agreements, automatic data collection, on-board integration with existing or new systems, like fare collection system, passenger counting system and video-surveillance system.
Exbus® system includes the following subsystems:
on-board monitoring systems
on-board information systems
control centre
stationary information systems
data transfer systems at the depot / garage / other area
diagnostic handheld devices.
Communication architecture is designed for the complete integration between mobile devices, fixed systems and communication networks. Vehicle location is achieved by the use of last generation GPS receiver and other available signals.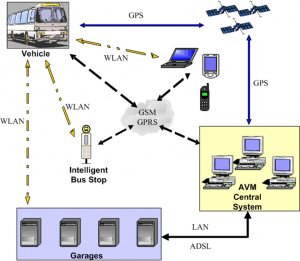 Exbus® system complies with the logical and physical architecture defined by ARTIST (Italian ITS Framework Architecture) and FRAME (European ITS Framework Architecture). On-board design is also compliant to Italian on board system architecture Guide line UNINFO/CUNA 278-3.1.
In defining the database, the Exbus Manager®application software uses the Oracle DBMS (DataBase Management System) and standard TRANSMODEL ENV12896 Public Transport reference data model , for the following parts : Service Data version, Transport Network Topology , Line/route description, Vehicle Data, Run data, running times, Drivers shifts, Driver shifts assignments, Final data of shifts, final data of passing time, Vehicle alarms, Depot data.
The Exbus® is in daily operation in several Italian Regions, nearly 2.000 vehicles, more than 8.500 stopping points. In operation at February 2016 since 2005:
Emilia Romagna Region – Modena Province – operator SETA SpA 450 vehicles , more than 3.000 stops , urban service in Modena , Carpi , Sassuolo , Interurban : Modena Province reference Dott. Gabriele Minghetti – mail: gabriele.minghetti@setaweb.it
Sicily Region – Catania City – operator AMT SpA – 350 vehicles , more than 1.500 stops , urban service in Catania – reference Ing. Salvo Serio – mail: salvo.serio@amt.ct.it.Not yet in operation at February 2016
Napoli – operator Circumvesuviana SpA – 200 Vehicles – interurban service Napoli Province , 1500 stops.
Roma – operator Roma TPL Scarl – 600 vehicles – urban service in Rome – 300 stops
Perugia – operator APM Perugia SpA – 100 vehicles – urban service in Perugia
Vicenza – operator FTV SpA – 230 Vehicles – interurban service in Vicenza, Padova Province
Ningbo – China – trial system.